Birds
125 species of birds have been recorded at Treborth which is wonderfully situated along a migration route (the Menai Strait) and includes varied woodland, parkland and grassland.
Resident Birds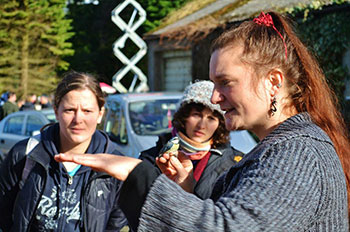 43 species are resident and breed on site, including:
Grey Heron,
Little Egret,
Shelduck,
Sparrowhawk,
Buzzard,
Tawny Owl,
Raven,
Great-spotted Woodpecker,
Treecreeper,
5 species of finch,
4 species of tit,
and 3 species of thrush.
The presence of such variety provides students with plenty of opportunity to compare and research many aspects of bird behaviour especially foraging techniques.
Regular Migrants
Regular migrants which breed at Treborth include:
blackcap,
whitethroat,
and chiffchaff.
On the Menai Strait
Three species of tern use the adjacent Menai Strait in summer and Common and Arctic Terns breed in small numbers on some of the islands there.
In winter good numbers and variety of waders and wildfowl gather along the shoreline and in the open waters of the Swellies including:
Oystercatcher,
Curlew,
Redshank,
Dunlin,
Teal,
Mallard,
Wigeon,
Shelduck,
Red breasted Merganser,
Greylag and Canada Geese.
These in turn attract Peregrine Falcon which breeds on the Britannia Bridge some years.
Redwing populate the garden in large numbers in winter along with Blackbirds and Song Thrushes from eastern Europe and Fenno-Scandinavia.
Occassional Visitors
Occasional visitors include:
Hobby,
Osprey,
Goshawk,
Lesser spotted Woodpecker,
Green Woodpecker,
Brambling,
Waxwing,
and Great Northern Diver.