What's New? 
Hilary Miller
Carnivorous House renovation
This is currently underway and a full description of the project is coming soon, stay tuned!
Fernery - Courtyard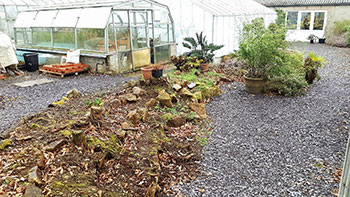 Removing the large conifers over the glasshouses at the back of the courtyard to reduce the risk of damage and increase light to the glasshouses, has inadvertently revealed a rather nice stone-punctuated embankment, which swoops in a curve towards the sheds. The remaining large tree stumps are an attractive feature of the embankment which will be worked into its new purpose as a fernery. To supplement the many hardy fern species, the planting plan includes Azaleas and Heathers for structure, and shade-loving herbaceous perennials such as Hosta, Heuchera, Hellebore and Ajuga, and bulbs such as Erythronium, Cyclamen and Anemone for flashes of colour throughout the year. Non-hardy ferns will be displayed in pots on the tree stumps, and we hope to plant a tree fern at the top of the slate steps. We are developing a collection of hardy orchids in partnership with Laneside Hardy Orchids that will be planted/displayed in the fernery.
Islands bed – Temperate House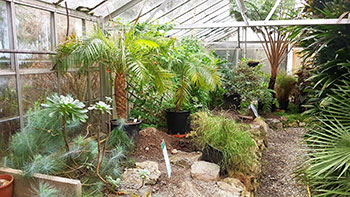 The second project is the redevelopment of the 'Tenerife bed' in the temperate house. The bed, which stretches along the right-hand side of the temperate house currently displays endemic flora from the island of Tenerife, however needs some renovation. We have decided to rework the existing Tenerife / Canary Islands collection into a broader 'Island Flora' display, featuring species endemic to Madagascar, St Helena and the Japanese islands in addition to the Canary Islands.